The flag site exits because of the vision and dedication of prior Committees with the generosity of the citizens of Somerset County, PA.
The current Committee is committed to the long-term maintenance of the flag site,
which is dedicated to all Somerset County veterans and to the flag pole which is dedicated to the Flight 93 heroes
If successful, our work will never be finished.


Welcome


To the official site of the Somerset County Flag Committee, Inc.
October 11, 2016
The flag raised on October 4 was lowered for repair. The wind on the 4th snagged the flag on one of our rose bushes and that tear grew quickly.
One of our cotton flags was raised by a crew from the Somerset Volunteer Fire Department. Brody again did the bulk of the "heavy lifting". Thanks!
The cotton flag is much heavier than the polyester flag raised on Oct 4th and the nylon flag raised on May 24th.

We hope to keep this flag up until mid November. Then we are going to try something new.

The committee voted to run a trial program to fly a smaller flag during the winter months.
We know:
The winter months are extremely damaging to the large flags.
They require 4 to 6 guys to raise and lower.
The large flags are expensive to replace and repair.
We all miss the flag when it is down.

Beginning sometime in mid November we will raise a 12 foot by 18 foot nylon flag.
It will be easier to lower and raise if we have enough notice of high winds and/or ice.
One person can lower and raise the flag, if necessary - two preferred.
Replacement and repairs will be more affordable.
We hope this will allow us to keep a flag flying all year.
October 4, 2016
The flag was lowered for repairs by a Somerset Volunteer Fire Department crew. It is nice to see the young guys working as a team with experience. THANKS!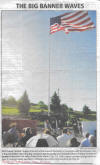 The Somerset Cambria Chapter of the Sons of the American Revolution
with the Forbes Road Chapter of the Daughters of the American Revolution
hosted a Flag Day ceremony June 14 at the flag site.
Flag Day 2009
Flag Day 1995
June 14, 1995 Flag up and flying as a new landmark




Now on Facebook

Next Meeting

7:00PM Oct 26, 2016
at
Gourmet Buffet
at Somerset Commons

Somerset, PA


(Regularly fourth Wednesday of the month)

Phone number:
(814) 444-0637

Directions to the Flag Site



Pennsylvania Turnpike to Somerset Exit 110
Turn right into Quality Inn parking lot
Flag site is behind the Quality Inn

YOU ARE INVITED TO VISIT THE SITE 24/7