The flag site exits because of the vision and dedication of prior Committees with the generosity of the citizens of Somerset County, PA.
The current Committee is committed to the long-term maintenance of the flag site,
which is dedicated to all Somerset County veterans and to the flag pole which is dedicated to the Flight 93 heroes
If successful, our work will never be finished.


Welcome


To the official site of the Somerset County Flag Committee, Inc.
New Flag raised August 28, 2015
The Committee's first nylon flag was raised today. With the help of the Somerset Volunteer Fire Department and Committee members a polyester flag was lowered for repairs. Tell us what you think of the new flag.

Flag Day June 14, 2015 Ramp Ribbon Cutting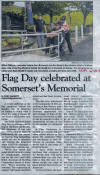 View the construction process on our 2015 History Page
May 21, 2015 Our Big Flag was raised for the season
The flag was raised with the help of Greg Davis, Larry Patton and Cody Martz. They made it look easy. THANKS!
Community Service - Site Cleanup, May 7 and 8, 20215
Somerset County Community Service provided the first major clean up effort of the season at the flag site. The first afternoon included weeding the flower gardens and sweeping the steps and platform. The second day continued the weeding and work around the border of the gardens and new ramp.

Our sincere thanks to the crew for their excellent work.
With mulch provided by Steve Matse, the John Adams family stread mulch at the site. The Community Service team finished the job May 28, 2015
New Paving Stones
Donations were received last year for the engraving of three paving stones. The work was compleded April 15, 2015 by Shetler Memorial's master craftsman Angelo Adolph. Additional pictures will be posted later of the work effort. Very interesting. The stones look great. Our thanks for the support.
Tourism Grant
February 17th the Committee was awarded one of the County's Tourism grants.
The grant will be used to purchase a new 30 foot by 60 foot flag.
FLAG DAY - JUNE 14, 2009
Flag Day, Sunday June 14, 2009 at 4:00 PM a rededication ceremony
was held at the flag site behind the Quality Inn in Somerset, PA.
We raised a 30 foot by 60 foot flag to the top of the 120 foot pole.
The ceremony rededicated the site to our county veterans.
A new granite memorial was dedicated to the Flight 93 heroes
and the flag pole was rededicated to the Flight 93 heroes.

Additional pictures can be viewed on the HISTORY page.


Now on Facebook

Next Meeting

7:00PM September 23, 2015
at the
King's

Somerset, PA


(Regularly fourth Wednesday of the month)

Phone number:
(814) 444-0637

Directions to the Flag Site



Pennsylvania Turnpike to Somerset Exit 110
Turn right into Quality Inn parking lot
Flag site is behind the Quality Inn

YOU ARE INVITED TO VISIT THE SITE 24/7