Beyond The Call of Duty
The Flag Site is dedicated to all veterans of Somerset County, PA
Extraordinary courage is very rare; but, found everywhere.
In 2010 we started a project to remember the Somerset County veterans that received our country's highest honors.
The following veterans were born in or lived in Somerset County, PA.
The Medal of Honor Historical Society of the United States
noted a tribute on the USS Somerset to
Somerset County's Medal of Honor recipients
in their June 2014 newsletter.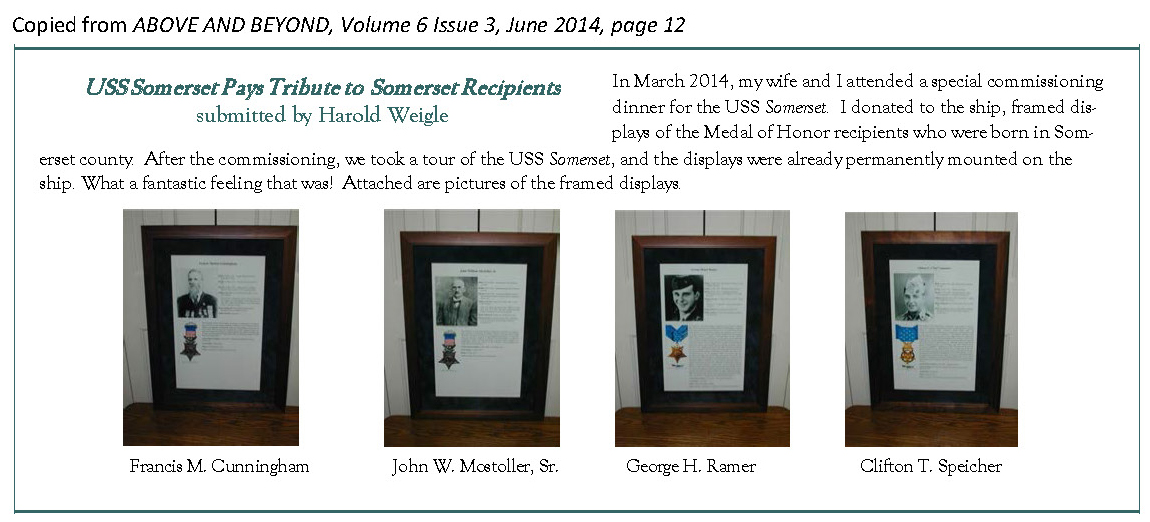 Click here to view the page in pdf format


Click on a name below to view the citation.
Medal of Honor
The Medal of Honor is the highest award for valor in action against an enemy force which can be bestowed upon an individual serving in the Armed Service of the United States.
CIVIL WAR
FRANCIS MARION CUNNINGHAM
Military records state he was
born 31 DEC 1837, Somerset, PA.
Research confirms 21 DEC 1837,
Upper Turkeyfoot Twp., Somerset Co., PA. Other sources, including his tombstone, list 12 DEC 1837.

Cunningham Only
JOHN WILLIAM MOSTOLLER
born 14 JAN 1843, Stoystown, PA

Mostoller Only
KOREAN WAR
GEORGE HENRY RAMER
born 27 MAR 1927, Meyersdale, PA,
Home of Record, Lewisburg, PA


Ramer Only

CLIFTON

T. SPEICHER
born 25 MAR 1931, Gray, PA





Speicher Only
---
Distinguished Service Cross
The Distinguished Service Cross is the second highest military decoration that can be awarded to a member of the United States Army for gallantry and risk of life in actual combat with an armed enemy force.
WALTER B. JONES born Somerset, PA
ALVEY C. MARTZ Home of record: Glencoe, PA
FRANKLIN D. McVICKER born Somerset, PA
---
Distinguished Flying Cross

The Distinguished Flying Cross is a medal

awarded to any officer or enlisted member of the United States armed forces who distinguishes himself or herself in support of operations by "heroism or extraordinary achievement while participating in an aerial flight, subsequent to November 11, 1918."



Scott P. Gerhardt, born about 1919, a native of Somerset



(We are looking for a copy of his citation, if you are a family member, or have information please send us an email )



OBIT: Scott P. GERHARDT, 2003, native of Somerset County, PA

Contributed for use in the USGenWeb Archives by Meyersdale Library
Transcribed and proofread by Richard Boyer

Copyright 2005. All rights reserved.
http://www.usgwarchives.net/copyright.htm
http://www.usgwarchives.net/pa/somerset/
_______________________________________________

GERHARDT

Scott P. Gerhardt, 84, of Tampa, Fla. passed away on Jan. 29, 2003 at Memorial Hospital. He is preceded in death by a son, Michael. He is survived by his wife of 61 years, Betty; daughters: Cindy and husband Paul Leary, Linda and husband Johnny Perkins; sons, Pat and wife Gale, Tim and wife Nan; grandchildren: Scott and Kelly Perkins, Grant, Lee and Allison Woody, Scott and Matt Gerhardt, Cristy and Michael Gerhardt and Jacob and Greeman Gerhardt, great-grandchildren: Michael Perkins, Zack and Kayle Woody and Jacob Woody and two brothers, Clark and Eugene. A

native of Somerset

, he and his wife Betty moved to Tampa in 1945. He entered the military service in 1941 as a private and graduated from aviation cadet school in the class of 1943, eventually attaining the rank of Major. He flew P-47 fighters and then transferred to the B-17 Flying Fortress. He completed 30 combat missions over Germany including the Ball Bearing factory assault over Sweinfort. He received numerous military awards, including the Air Medal with three clusters and the

Distinguished Flying Cross

. In 1948 he opened Scotty's Service Center, first on MacDill AFB, then at Gandy and MacDill. He continued to provide quality service to his south Tampa customers until his retirement in 1983. He made numerous friends and acquaintances while running the center. He was a member of the First Christian Church of Tampa and the Moose Lodge 912 Tampa. A memorial service will be held at 2 p.m. Monday at the Mark III Funeral South Chapel and interment will take place in Somerset Memorial Park next to his son Michael.

Daily American, February 1, 2003

---
Silver Star
Per the Home of Heroes web site, the Silver Star is the third highest military award exclusively for combat valor, and ranks fifth in precedence of military awards behind the Medal of Honor, the Crosses (DSC/NC/AFC), the Defense Distinguished Service Medal (awarded by DOD) and the Distinguished Service Medals of the various branches of service. It is the highest award for combat valor that is not unique to any specific branch; it has been bestowed by the Army, Navy, Marine Corps, Air Force, Coast Guard and Merchant Marines.
Jason H. Barron, born 1920 in

Somerset, PA, KIA 17 Aug 1944
Awarded the Silver Star "For gallantry in action .... on 31 July 1944. When Lieutenant Barron's platoon received the brunt of a vicious enemy counter-attack he succeeded in locating a mortar squad to lend support to his platoon. He also borrowed a .50 cal. machine gun from friendly troops and directed the fire of mortar and the machine gun on the advancing enemy. His action immediately stopped the counter-attack and forced the enemy to withdrawal to the positions they had previously held. The superior leadership and personal bravery displayed by Lieutenant Barron was an inspiration to his men and reflects great credit upon himself and the Armed Forces.
DONALD ARTHUR CRITCHFIELD b: April 12, 1916
OBIT: Donald Arthur CRITCHFIELD, 2004, Somerset, Somerset County, PA

Contributed for use in the USGenWeb Archives by Meyersdale Library
Transcribed by Crystal.

Copyright 2005. All rights reserved.
http://www.usgwarchives.net/copyright.htm
http://www.usgwarchives.net/pa/somerset/
_______________________________________________

DONALD ARTHUR CRITCHFIELD

Donald Arthur Critchfield, 88, died Oct. 19, 2004, at his home in Somerset. Born April 12, 1916, in Connellsville, Don is preceded in death by his parents, James A. and Sue Eva (Pyle) Critchfield. He is survived by his wife of 58 years, Lois Marie (Yost) Critchfield; two brothers, Robert W. and James A. Jr., both of Somerset; three children, Jon Allen, married to Mary Mulcahy, Somerset; Roy Eric, married to Kathy Hunter, Somerset; and Sarah "Sally" Katherine, married to Randell "Pete" Urban, Somerset; five grandchildren: Allison (Urban) Walter, married to Ben Walter, Angela Urban, Jon S. Critchfield, Brian E. Critchfield and Laura S. Critchfield; and one great-grandson, Ethan David Critchfield. He is a 1934 graduate of Somerset High School and a 1940 graduate of Susquehanna University. A decorated combat veteran of World War II. Don served four years in the North African, Sicilian and European Theaters as an armored platoon commander with the 66th armored regiment of the Second Armored Division "Hell on Wheels," rising to the rank of captain. Twice wounded in combat he received the Purple Heart with Oak Leaf Cluster. He was awarded the Bronze Star and Silver Star for gallantry in action. Following World War II, he and his partner, Roy Critchfield operated Critchfield Construction Co. until he retired in 1976. During his career, he built more than 100 private residences, seven churches and numerous commercial buildings in and around Somerset. An avid sportsman, he liked hunting but loved fishing. He was a lifetime member of the NRA, a life member of Somerset Lodge 358 Free and Accepted Masons, a life member of the Humane Society of Somerset County and a 50-year member of the American Legion Post 181. He was also a member of the Jaffa Shrine and Consistory Valley of Altoona, Veterans of Foreign Wars Post 554, the forty and eight and the Second Armored Division Association. Also Trinity Lutheran Church, Somerset. No viewing or visitation. A private funeral services with interment in Somerset County Memorial Park will be held at the convenience of the family. Please omit flowers. The family requests donations be made to the Humane Society of Somerset County, Box 182, Somerset, Pa. 15501. Arrangements by the Hauger-Zeigler Funeral Home, Somerset.

10/20/2004 Daily American
---
A summary of the above information is available here in pdf format.