The flag site exits because of the vision and dedication of prior Committees with the generosity of the citizens of Somerset County, PA.
The current Committee is committed to the long-term maintenance of the flag site,
which is dedicated to all Somerset County veterans and to the flag pole which is dedicated to the Flight 93 heroes
If successful, our work will never be finished.


Welcome

to the official website of the

Somerset County Flag Committee, Inc.

The Committee maintains
America's County Veterans Memorial Flag Plaza
The flag site was given an official name during 2019.
The name of the 501(c)3 non-profit organization did not change.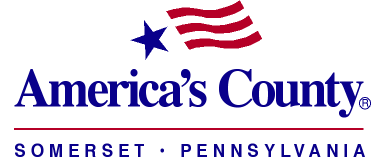 May 25, 2022
Please pause to visit the site to pay respect to the flag now flying. The current flag was donated to the Committee in 2009 by Woodmen of the World Lodge 19 of Somerset. It has flown and repaired often. Yes, it is faded and has served us well for many years. We plan to retire this flag after one more chance to fly her and honor her service.

May 27, 2022
We hoped the flag would
give ua a month of service.
She will fly through Memorial Day
and then lowered for retirement.

THANKS
Again we wish to thank the community for your generous donations

Last year we asked to replace funds needed to repair damage to the flag and pole. We hoped to receive $3,900; but; received almost $12,000. In addition , we are awaiting the completion of a new flag donated by the Somerset VFW.
Flag Day 2009
Flag Day 1995
June 14, 1995 Flag up and flying as a new landmark


SOMERSET COUNTY FLAG COMMITTEE
P O BOX 1172
SOMERSET PA 15501-1172

Next Meeting

7:00 PM
October 25, 2023
at
Somerset American Legion

normally the fourth Wednesday
of the month

Phone number:
(814) 444-0637
Click here use of the site for a flag retirement
Directions to the Flag Plaza



Pennsylvania Turnpike to Somerset Exit 110
Turn right into Quality Inn parking lot
Flag site is behind the Quality Inn
at the intersection of
Tollgate Road and Laurel Crest Road

YOU ARE INVITED TO VISIT THE SITE 24/7